If you ever get an opportunity to visit an Edward Hopper exhibition I would highly recommend you grasp it with both hands.  I was very fortunate to see a wide range of his most popular paintings at an exhibition in London in 2004.
The painting, Nighthawks, is one of his best and is a 1942 oil on canvas painting that portrays people in a downtown diner late at night. It is Hopper's most famous work and is one of the most recognizable paintings in American art.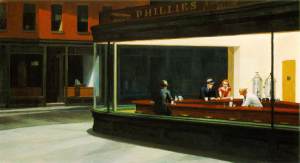 The scene was supposedly inspired by a diner (since demolished) in Greenwich Village, Hopper's neighbourhood in Manhattan. Hopper himself said the painting "was suggested by a restaurant on Greenwich Avenue where two streets meet."  Additionally, he noted that "I simplified the scene a great deal and made the restaurant bigger."
This reference has led Hopper aficionados to engage in a search for the location of the original diner. The inspiration for this search has been summed up on the blog of one of these searchers: "I am finding it extremely difficult to let go of the notion that the Nighthawks diner was a real diner, and not a total composite built of grocery stores, hamburger joints, and bakeries all cobbled together in the painter's imagination."
The spot usually associated with the former location is a now-vacant lot known as Mulry Square at the intersection of Seventh Avenue South, Greenwich Avenue and West 11th Street, about seven blocks west of Hopper's studio on Washington Square. However, according to an article by Jeremiah Moss in The New York Times, this cannot be the location of the diner that inspired the painting as a gas station occupied that lot from the 1930s to the 1970s.
Here is a selection of others, but they're all excellent.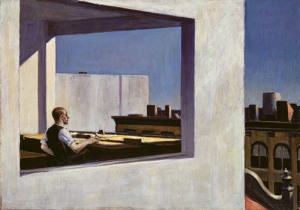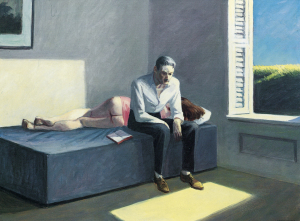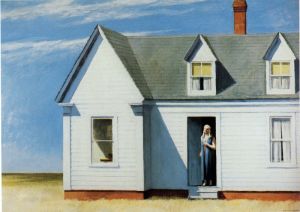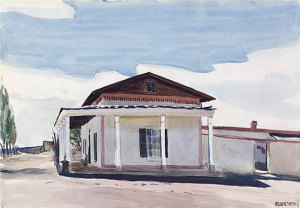 Conor Foley